DR. ANTHONY CROTHERS D.C.
Dr. Anthony Crothers, DC is the owner of Doc Tony Clinics. He is a graduate of Life Chiropractic College since 1993. He has been a resident of Jacksonville and a practicing Chiropractor in the area ever since. Aside from being a very well-respected member of the community, Dr. Crothers has actively been involved in many volunteer projects and other businesses to help improve our city of Jacksonville. Watch the video below to learn more about Doc Tony and how we got started in chiropractic.
DR. KEVIN O'DONNELL - Southside Location
Dr. Kevin O'Donnell, D.C. Chiropractor Dr. Kevin O'Donnell is a native Floridian from West Palm Beach. In 2003 he joined the U.S. Army and spent the next 8 years serving as a medical laboratory technician. Through the military, he obtained his clinical laboratory sciences degree from the George Washington University. Following his military experience in 2012, Dr. O'Donnell continued his education at the University of North Florida and obtained his bachelor's degree in biology with honors. In 2014, Dr. O'Donnell matriculated into Palmer College of Chiropractic in Port Orange, Florida. He graduated magna cum laude and was awarded the academic excellence award. He is board certified through the NBCE.
DR. ALBERT FRALICKER JR. - Northside Location
Dr. Albert Fralicker was raised in Jacksonville Florida coming from a family of chiropractors. In 2007 he received his bachelor's degree in General Studies at Palm Beach Atlantic University. In 2011 Dr. Fralicker graduated from Palmer College of Chiropractic in Port Orange, Florida with a certification in acupuncture. Dr. Fralicker has been a chiropractor for about 10 years and is skilled in hands on diversified adjustment and has extensive knowledge in therapeutic exercises. Dr. Fralicker is board certified through the NBCE. He is married and has three children.
DR. PENELOPE KNOX - Westside Location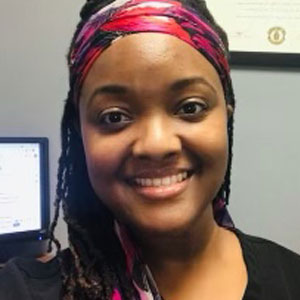 Dr. Penelope Knox was born and raised in Memphis, Tennessee. In 2012 she received her Bachelor's Degree from Spelman College in Psychology with a Concentration in Medicine.
In 2016, she received her Chiropractic Doctorate Degree from Life University in Atlanta, Georgia. Since then, she has been practicing chiropractic medicine in Jacksonville, Florida. She combines manual chiropractic adjusting techniques, physical therapy, and rehabilitation modalities to provide the best chiropractic experience for her patients.
OFFICE HOURS
---
Monday
9:30am - 7:00pm

---
Tuesday
9:30am - 7:00pm
---
Wednesday
9:30am - 7:00pm
---
Thursday
9:30am - 7:00pm
---
Friday
9:30am - 7:00pm
---
Saturday
Closed